Ice skating small world play is a great sensory activity to make for toddlers and preschoolers during wintertime.
Small world play keeps children busy for a longer time. They will have fun and at the same time use their imaginations and language. It's a very educational and developmental activity for children.
I like to plan the small world play activity based on the children's interests and also the season. Since it's Wintertime and in "Canada" we tend to have long chilly Winters with a lot of snow… And when we say snow it's automatically outdoor sports… "Ice Skating and Snow Boarding", I decided to make this fun sensory activity for my 3-year-old. It's so easy to make and he loved it!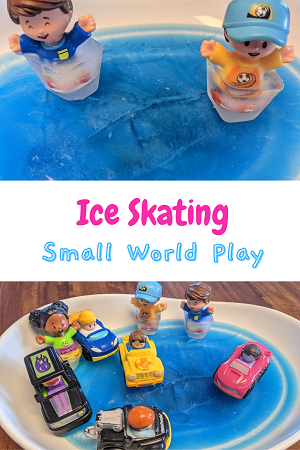 This post contains affiliate links
To make this fun ice skating sensory small world play, you'll need: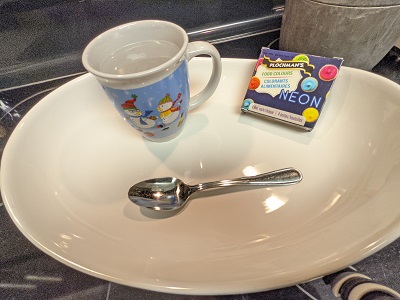 A big plate
Food Coloring
Water
Freezer Tray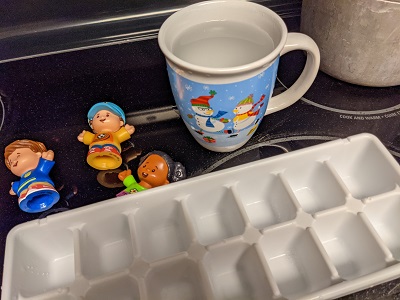 Instructions for this fun sensory small world play:
First, start by mixing the water with the blue food coloring and pouring it on the plate.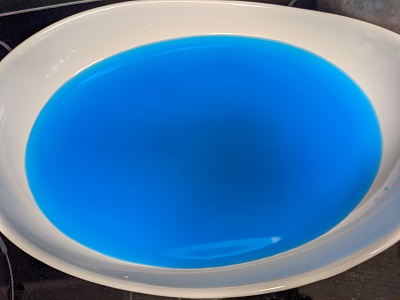 Next, place your mini figurines in the freezer tray. After you're done, fill it out with water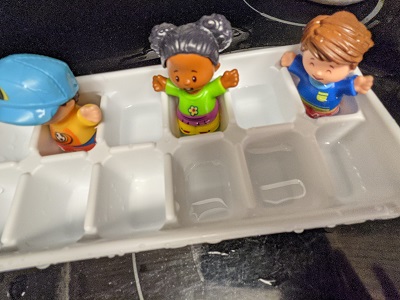 Lastly, freeze everything overnight.
Playtime:
Invite little ones to the activity, and talk about Winter, discuss this season with the fun stuff people do in it. Use this fun ice skating sensory small world play as an opportunity to educate them about winter.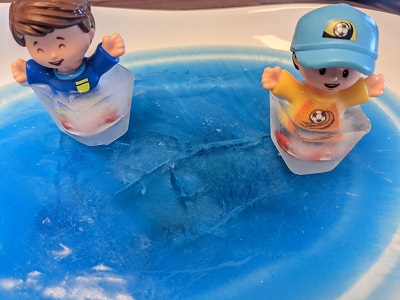 My 3-year-old had so much fun with this activity, he decided to add more toys to it and I could hear him making the little figurines talk… As if they were ice skating for real 🙂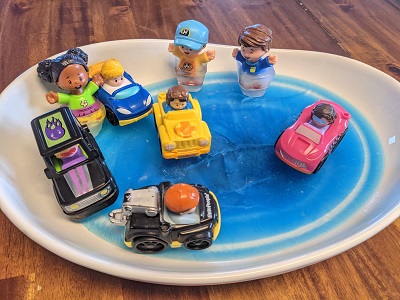 This surely is a great sensory play activity to entertain preschoolers and keep them busy on
a cold, stormy day! For another fun winter small world play. Check out my other cute sensory activity, Arctic Small World Play