This Arctic Sensory Play is a great educational winter activity for Preschool and Kindergarten. They get to learn about Arctic Animals and Winter wildlife in a fun way. We're also using Fake snow to not get frozen hands when we're learning about these 🙂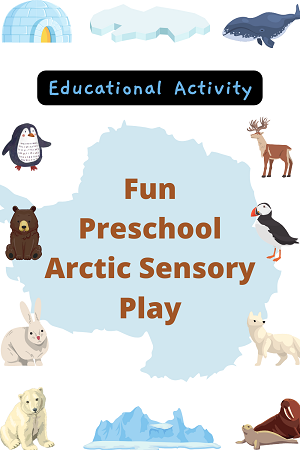 This post contains affilicate links
During Wintertime, there's nothing better than playing in nature with snow, but if it's too cold to be outside. I like to fill a bin with a sensory activity for children and let them have fun.
Sensory Bins can be themed for holidays, seasons, and also as an educational bin ( for example: learning about sea life/ Arctic/… etc )
In Early Childhood, sensory play is very important because it supports language development, cognitive growth, fine and gross motor skills, problem-solving skills, and social interaction.
To make this Arctic Sensory Play and make it an educational Winter activity for preschool or kindergarten, I prepared the material in advance.
First I bought the Mini Figurines Arctic Animals, I also did print out some pictures of Arctic animals with their names and also an Arctic book to read for children at the end of the activity.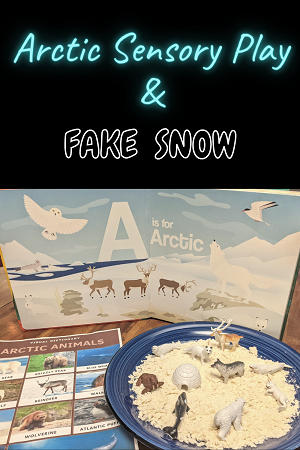 Then, you need to make the fake snow. I only used flour to make fake snow and it turned out just fine. The recipe requires Corn Starch and Shampoo conditioner. I used instead Flour and a Hand cream.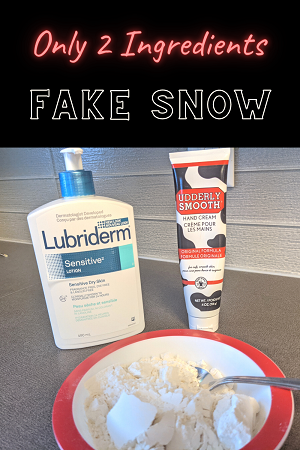 Can you make fake snow with flour?
Yes, you can substitute Corn flour with Flour to make fake snow. You're only going to use a little bit less cream or conditioner.
Recipe to make fake snow with flour:
In a large mixing bowl, add about 5 tbsp of flour and about a small tsp of cream.
Mix well to incorporate everything and set aside. Your fake snow is ready!
Preparation of this preschool arctic sensory play and fake snow:
in advance, have the list of the things you will need for the activity
Fake snow
A printed out sheet with Arctic Animals names and pictures
Arctic Book ( I used Canada Abc )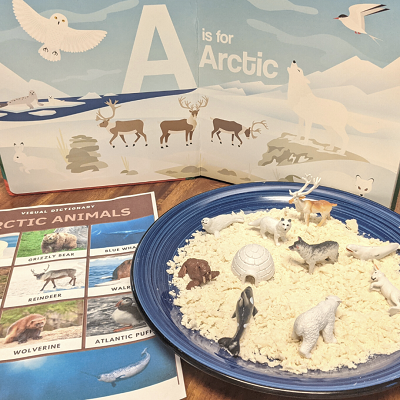 Set up the table
Take the fake snow and put it on a plate, then add the Arctic animals
Place the plate into your activity table, then add the book and the animal arctic sheet.
Finally, invite the children to play and let them have fun with the fake snow and the mini arctic figurines.
the educational experience of preschool arctic sensory play
Start talking about the different types and kinds of arctic animals while showing each picture to the children. And lastly, finish with the book.
Let the children free play with the sensory activity and use their imaginations…
My 3-year-old decided to:
1) hide the arctic animals under the snow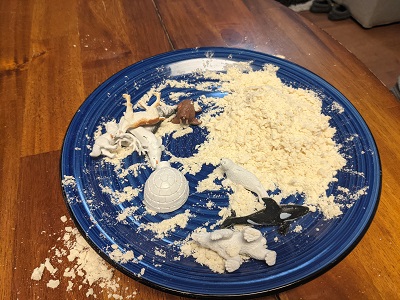 2) To play with his construction vehicles and fake snow.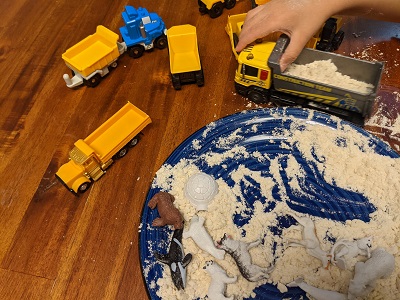 So with free play, the Arctic Sensory Play led to two other Small World Play Activities
" Arctic Animal Hunt" and " Winter Snow Removal " ^_^
Make this fun Winter sensory play for your preschoolers and make some lovely memories. For another fun, sensory winter activity, check out this Winter Scented Playdough