Easy No-cook Playdough that takes 5mins to make. With 3 ingredient only!
I have tried many Playdough recipes but I prefer this one because it is so easy to make and doesn't take so much time from me.
It's a fun activity that you can make from scratch using salt dough recipe.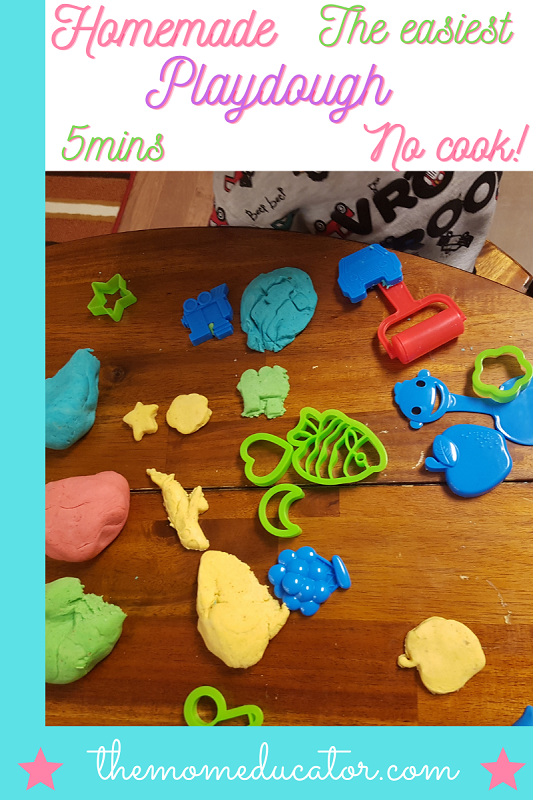 This post might contain affiliate links
What kids learn from Playdough activity?
Playdough is a great sensory play. Children develop their small muscles of the fingers and hands. They also develop their writing and drawing abilities.
Ingredients for this easy no-cook Playdough:
1/2 cup Salt
1 cup Flour

1/2 cup Water
Food Coloring
Instructions:
In a cup, mix the water with the food coloring and set it aside.
In a bowl, mix 1 cup of flour with salt.
Then, add the mixture of water and the food coloring.
Mix well and if it gets too dry, add more water.
Knead dough with your hands and if it starts to get too sticky, add some flour.
Your easy no cook Playdough is ready. Have fun! 🙂
Tips:
To avoid having messy hands, mix the food coloring to the water. Then, add it to the flour.
How to store homemade playdough?
To prevent Playdough from drying out, keep it in a sealed bag.
Playdough can last up to 4 weeks in the refrigerator. Just make sure it's inside a sealed bag.
How to bake playdough in the oven?
To bake your playdough; Bake it at 200°F until hard. Thin pieces take between 45 to 60 minutes. Thicker pieces take between 2 to3 hours.
---
Cookie Cutters:
There are 3 types of Playdough
1) The Regular Playdough
Which we made in this recipe
2) The Edible Playdough
This one require to be cooked…
And it comes in different flavors: Chocolate, Lemon, Strawberry… etc.
3) The Aromatherapy Playdough
This one is made from essential oils to calm the children and to reduce stress & anxiety.
The most knows one is Lavender Playdough
This is the basic Playdough recipe. For each Holiday or Season, you can get creative and make a special Playdough.
For example, during the Fall Season, I usually make Pumpkin Playdough