No Cook, no oil and no cream of Tartar Pumpkin Spice Playdough. Such a great Scented Fall Playdough during the Autumn Season. I have tried many Playdough recipes and this one is my favorite.
The best part about this no-cook pumpkin playdough is that it's a Salt Dough recipe. You can save your kids' creations by baking them to make them permanent!
Playdough is one of the best activities of all the time and in fact, it was my favorite as well.
It's a fun activity that you can make from scratch.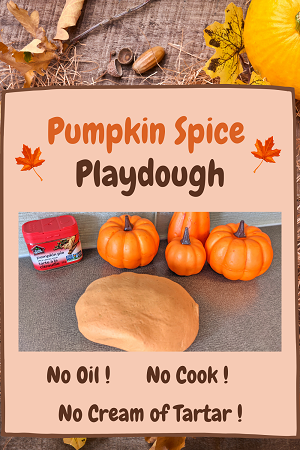 This post might contain affiliate links
What kids learn from Playdough activity?
Playdough is a great sensory play. Children develop their small muscles of the fingers and hands. They also develop their writing and drawing abilities. For more details check out this link: Playdough Power
Ingredients for this No Cook Pumpkin Spice Playdough
1/2 cup Salt
1 cup Flour

1/2 cup Water
Food Coloring
1/2 Tsp Pumpkin Pie Spice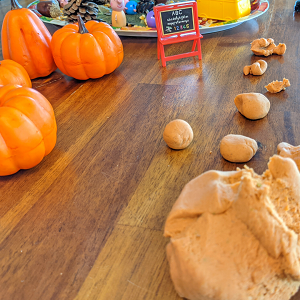 Instructions to make this No Cook Pumpkin Spice Playdough:
In a cup, mix the water with the food coloring (to make the color orange) and set it aside.
In a bowl, mix 1 cup of flour with the pumpkin pie spice.
Add the salt. Then, add the mixture of water and the orange color.
Mix well and if it gets too dry, add more water.
Knead the dough with your hands and if it starts to get too sticky, add some flour.
Your No Cook Pumpkin Spice Playdough is ready. Have fun! 🙂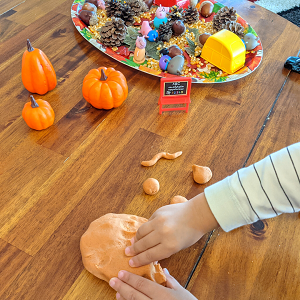 The child playing in the picture is making Pumpkins with Playdough for the "Peppa Pig Pumpkin Patch Small World Play"
Tips:
To avoid having messy hands, mix the food coloring to the water. Then, add it to the flour.

To prevent Playdough from drying out, keep it in a sealed bag.

Playdough can last up to 4 weeks in the refrigerator. Just make sure it's inside a sealed bag.

To bake your playdough; Bake it at 200°F until hard. Thin pieces take between 45 to 60 minutes. Thicker pieces take between 2 to3 hours.
---
Pumpkin Pie Spice