Are you looking for a fun Fall game to do in the harvest season? Then make this easy DIY Fall Peppa Pig small world play for your little ones to blow their minds.
This post contains affiliate links.
"Peppa Pig" is the new "Ben & Holly's Little Kingdom" of this generation…They're so popular that you'll find them in any store and in any channel!
I don't mind my 3-year-old watching them honestly because I find their episodes are educational. In fact, I enjoy watching them too as I find their English accent is just so cute 🙂
As a teacher, I learned that you need to stay updated when it comes to popular tv shows and cartoons for kids. Because sometimes you can plan your activities based on them, to attract all the children in your group and invite them to the play.
Since it's that Fall & Harvest season, it's easy to find the Fall decorations anywhere you'd go (Pinecones, Acorns, Leaves & Pumpkins).
I decided to add a few other objects to make this fun DIY small world play
To make this DIY Fall Peppa Pig Small World Play, You'll need:
A tray
Fall Decoration ( Acorns, Pinecones, Pumpkins & Leaves )
Corn (optional but to make it look as a Harvest Season )
Instructions :
Start by putting the leaves in the tray.
Add the Pinecones, Acorns, Pumpkins & the Corn.
Finally, place Peppa Pig figurines with their vehicles.
DIY Fall Small World Play can lead to another fun activity!
Construction Site during the Fall/Autumn
Add all the construction vehicles and signs you have to the activity table and let the children have fun scooping, measuring, and carrying all the Corn and the Fall items in their Dump Trucks and Heavy Duty vehicles!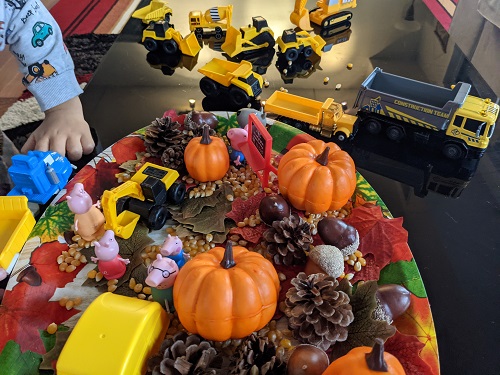 When you try this fun Peppa Pig Small World Play, feel free to share your activity on social media and Hashtag me! I'd love to see it 🙂
For more easy and fun activities to do this Fall… check out this other small world play: Autumn Pumpkin Patch Train Set