Fall Leaf Hair Art, is a silly and fun activity to do for kids. It is an easy art activity during the Fall Season.
This funny Fall activity will help children develop their fine motor skills:
Children will take the small leaves to glue them (using Q-Tips)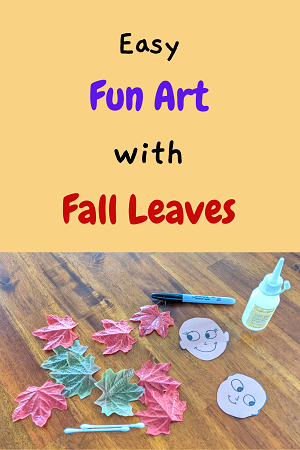 If you are looking for a last-minute and fun activity to calm a group of kids during a chilly Fall day… Then look nowhere.
You will only need few items that you already have to keep your toddlers or preschoolers busy!
For this fall leaf hair art, you'll need: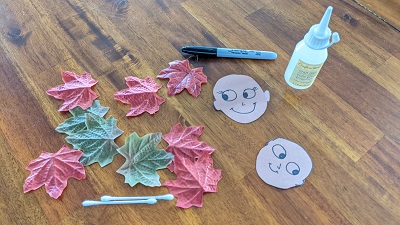 Construction Paper,Scissor and a Permanent Marker ( for drawing faces)
Fall Leaves
Glue
Q-Tips
Tip:
In advance, set up your activity table. Always set up the table before inviting the children to play ( this will prevent angry kids or losing their interest in the activity )
For the Leaves, you can also use the real, natural ones… On a lovely Fall day, take the children on a walk with a bag and play the game "Autumn Scavenger Hunt"… Ask them to collect their favorite leaves and bring those leaves home to make this fun art!
Instructions to make This fall leaf hair art:
In advance, draw some funny faces on paper using a permanent marker and cut them.
Next, set your activity art table with the leaves, faces, glue, Q-Tips, and invite the children to play.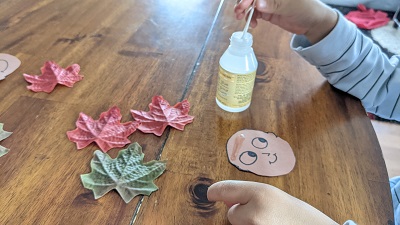 Explain to them the instructions and let them be creative. The child here decided to give every person a unique color hair type. I let him be creative without interfering.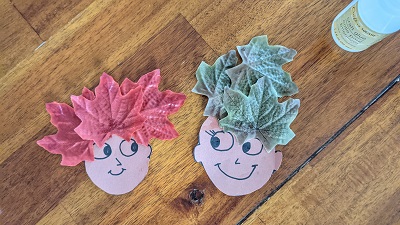 If you are a Fall lover and looking for more fun and easy activities to do with your little ones… Check out my other fun and easy activities "DIY Fall Peppa Pig Small World Play" and "Small World Train in a Pumpkin Patch"