Fall Pinecones Painting for kids is a great activity during the Fall Season. It can be a great Fall activity for both toddlers and preschoolers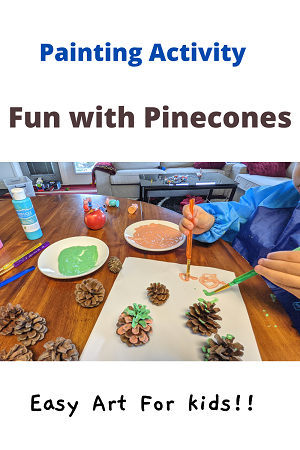 As a teacher during this time, I used to spend most of the time outdoors because I used to see the joy and happiness in those little ones faces
In this article, I am sharing with you a classic art activity that will bring Fall beauty indoors.
to make this fall pinecones painting for kids, you'll need: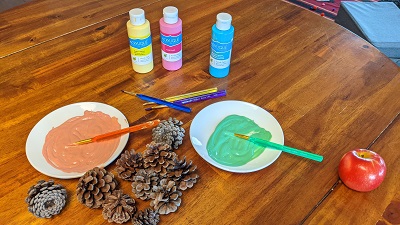 Acrylic Paint
Pinecones
Paintbrushes
Tip:
In advance, set up your activity table. Always set up the table before inviting the children to play ( this will prevent angry kids or losing their interest in the activity )
To get those lovely Fall Shades paint colors:
Color 1: I mixed Pink with Yellow and a tiny bit of Blue
Color 2: I mixed Blue with Yellow
Instructions to make this Fall pinecones painting for kids:
Start by setting up your activity table.
Put the paint on two different plates and add the paintbrushes.
When you're ready, invite the children to the table and explain to them the instructions.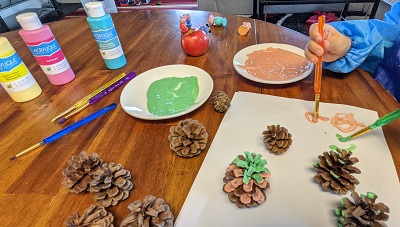 Let the children get creative and step aside. Only step in when they ask you to.
Sometimes the activity gets extended and that's what tells you that your children are having fun and are enjoying it ( Example in the picture below… the child decided to not only paint Pinecones but also mini Pumpkins and Acorns )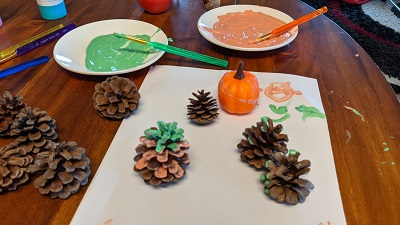 We all know that playing with natural objects (Pinecones, Acorns, Sticks, Leaves….etc) has a lot of benefits to the child's development. Its advantage is way better than the actual toys… Read more about those benefits here!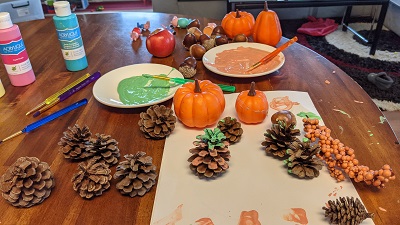 I hope you try this easy classic Fall activity with your little ones. For another Fall and easy activity… Check out this "Fall Leaf Hair Art"