Fall Playground Small World Play using Autumn/Fall decorations ( Pinecones, Tree leaves, Pumpkins, Acorn,…etc. ) and Little People's Toys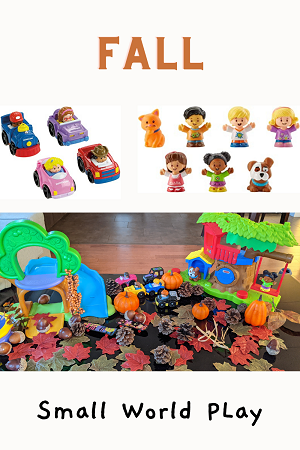 This post contains affiliate links
"Little People Toys" are very popular that you'll find them in any store!
As a teacher, I learned that you need to stay updated when it comes to popular tv shows and cartoons for kids. Because sometimes you can plan your activities based on them, to attract all the children in your group and invite them to the play.
Since it's that Fall & Harvest season, it's easy to find the Fall decorations anywhere you'd go (Pinecones, Acorns, Leaves & Pumpkins).
I decided to add the "Little People Toys" to make this fun small world play idea of "Fall Playground"
To make this Fall Playground small world play, you'll need:
Fall Decoration ( Acorns, Pinecones, Pumpkins & Leaves )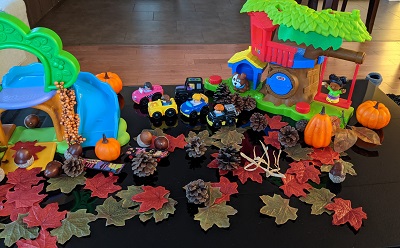 Tip:
Feel free to add more toys and small toys you have to this Autumn Small World Play. For example, I added a "Winnie The Pooh Treehouse Set" to make it more fun.
As a suggestion… you could add animal toys and dollhouses to make it look more like a real playground.
Instructions: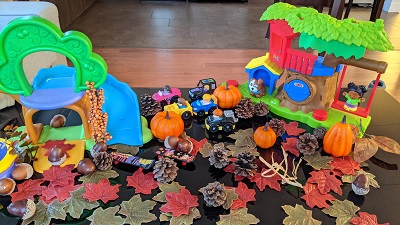 Start by putting the Leaves on the table.
Then, the Pinecones, Acorns, and Pumpkins.
Add the swing, little people's figurines, and other mini toys you have.
I also added "Winnie The Pooh Treehouse Playset" but this time you could get creative and add the toys you'd like…
Finally, invite the children to the play station.

When you make this fun activity, feel free to share it with me on social media and Hashtag me! I'd love to see it 
For more fun small world play ideas to do this Fall… check out: Autumn Pumpkin Patch Train and "DIY Fall Peppa Pig Small World Play"