These kid-friendly healthy almond chocolate donuts can be a great activity to make with kids. They are so delicious and very easy to make. They can also be as last-minute healthy birthday donuts!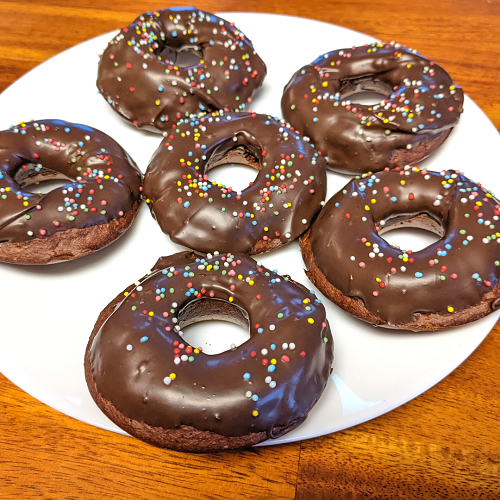 This post contains affiliate links.

They take no time at making and baking them. (They took 10 mins in a 400-degree oven)
For the shiny Chocolate glaze, I used dark chocolate wafers that I've melted in the microwave. I find that using Dark Chocolate Wafers instead of Dark Chocolate is what gives your baked goodies a shiny fancy look. And they also melt and dry fast…
And for the Almond flour, I like to make it myself by grinding whole almonds. I find that when I make the Almond flour right before making the recipe, it turns my baking good so fluffy and soft not dense compared to the store-bought package.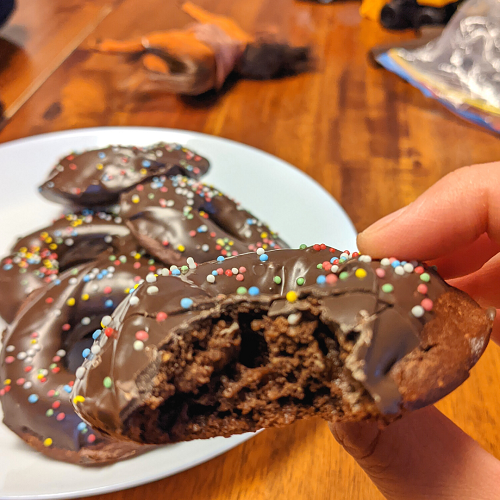 What Do Children Learn From Cooking?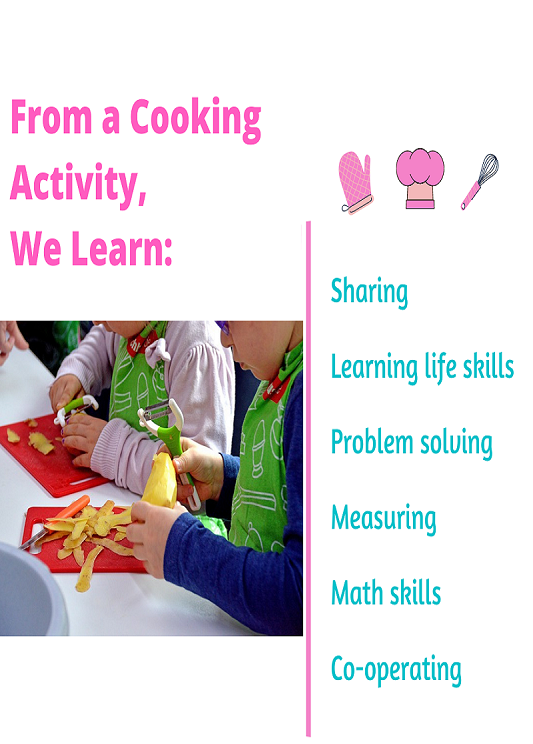 this post contains affiliate links
When making a recipe with kids, I try to simplify the recipe as much as I can to make it easier on me. We want to have fun baking together not feel stressed out.
Little ones love baking and cooking with adults. In fact, it's one of the greatest activities for kids. They get to learn while having fun!
To make these kid-friendly healthy almond chocolate donut, you'll need:
Ingredients:
1 small bowl of almond flour (2 handful raw almonds ground)
2 eggs
4 tbsp of Xylitol sugar
4 tbsp of olive oil
4 tbsp of plain yogurt
4 tbsp of cocoa powder
1/2 tsp of baking soda
1 vanillin
1 dash of (salt,cinnamon,coffee)
Decoration:
Dark chocolate Wafers (for the glaze)
Sprinkles
Tips:
For the sugar, if you don't have Xylitol you could replace it with Erythritol or Monk Fruit sweetener. Personally, I don't like to use Stevia in my baking goods because I find that it changes the taste by giving them that minty flavor.
Lately, I like to use Vanillin instead of Vanilla, because your goodies will smell and taste way better!
And for the coffee, I like to add it to all my chocolaty goodies because it enhances the chocolate flavor
Method for these kid-friendly healthy almond chocolate donuts
Start by preheating your oven to 400 degrees.
In a bowl, whisk the eggs with sugar and vanillin
Add the yogurt, oil, cocoa, baking soda, and the spices
Finish with almond flour.
When done, fill up the donut pan with the batter ( Leave some room for the donuts to rise)
This recipe gave me: 6 donuts, a small cake, and a dozen of mini muffins.
Bake them for 10 – 15 mins ( They cook very fast so keep your eye on them)
When baked, let them cool down before decorating them.
After cooled, prepare the melted chocolate along with your donuts and sprinkles. Then invite little hands to decorate ( that's the fun part! )
My little one decided to add a candle to it and pretended that it was his birthday again 🙂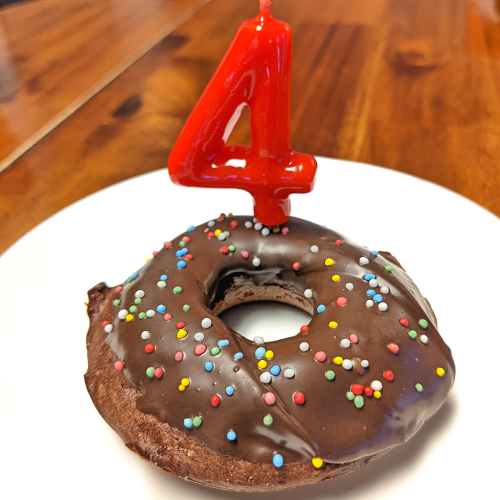 I had some extra melted chocolate wafers left, so we decided to glaze the cake also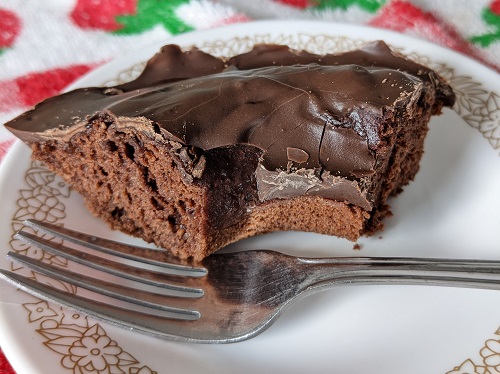 If you're wondering about why there's no picture of the mini muffins, is that because they were the first ones to go even without the glazing 😀 That's how delicious these goodies were!
I hope you enjoy making these lovely donuts with children. To make some great memories…
For more baking with children activities, check out these: Cake Mix Baked Funfetti Donuts