Brioche is a great kid-friendly snack. This  recipe is very easy to make and so delicious!
It combines the softness and fluffiness of a cake with the taste of Panettone.
Leftovers of this Panettone Cake makes great French Toast.
I guarantee you your little ones will love it too!
Invite your little ones to help you make this lovely Brioche and turn it into a fun cooking activity!
3 cups of Flour
3 Eggs
1/2 cup of warm Water
1 packet of Yeast
3 Tbsp of Butter
1/2 cup of Sugar
1/4 cup zest of  Orange and Lemon peel
1 Tbsp of  Vanilla Extract
1 Tsp of Salt
1/2 cup Raisins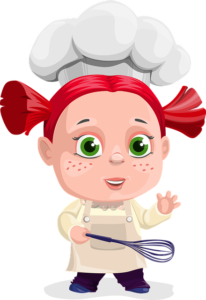 Tasks for little helpers:
Breaking the eggs
Adding the ingredients to the bowl.
Pouring the flour bit by bit.
Mixing the batter
In a bowl, whisk together the eggs, sugar, vanilla,the zest, yeast and salt.
Add the flour bit by bit to the mixture, add the butter,raisins and water. Mix well until it's incorporated.
Into a well floured surface, work the dough for couple  minutes,until it comes together. Place it in an oiled bowl and brush some more vegetable oil over the top to stop it from forming a crust. Cover with plastic wrap and put it somewhere warm for 1 hour.
Butter your cake pan and set it aside. Once the dough has risen, dump it on it. Cover again with plastic wrap and let it rise  for another half an hour.   Preheat the oven to 350 degrees. Brush the top of the Brioche with some egg wash and bake into your preheated oven for about 40 mins.