This Christmas small world play is one of my favorite activities to set up for toddlers.
This type of activity is my favorite in general… It is not only a fun exciting activity for little ones but also, a great learning experience as well.
Since it's wintertime and Christmas is around the corner, I like to shop for those cute little Holiday decorations ( mini Christmas trees, Santa & Snowmen figurines, fake snow…etc.)
Christmas decorations are not only meant to make your home looks lovely and cozy but, they can be useful to make a cute Holiday small world play as well.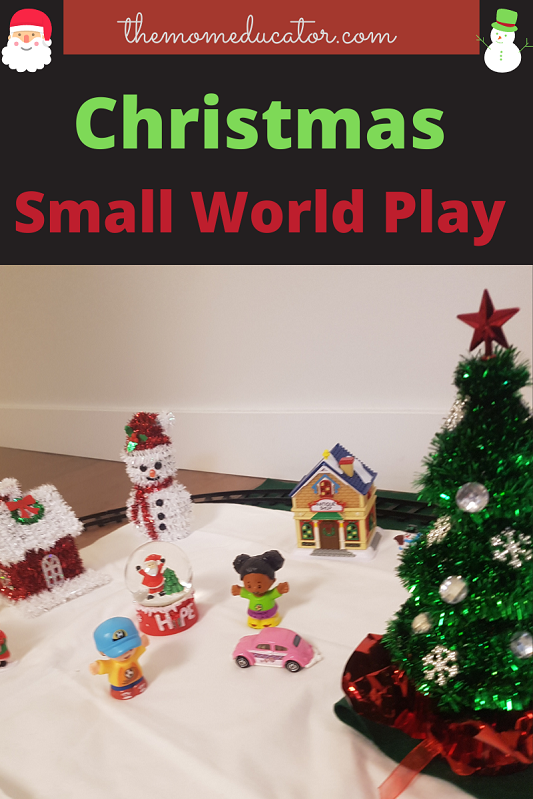 This blog contains affiliate links.
Small world play doesn't always have to be made with expensive items or buying things specifically for it… You can simply get creative and make the play using the things that you already have at home. In this scenario ( I used a white table cloth as a snow land )
What is a small world play?
Small world play or miniature play, is a type of pretending or imaginative play using little objects and figurines… Children get to use their imagination in this type of activity to associate it with real life.
Benefits of small world play?
Small world play allows children to explore mini objects that are in the real life. This is a great learning and educational activity that help children develop language, social skills and to open their eye to the world.
Some examples of small world play:
Dinosaur World, Farm Play, Beach Miniature, Arctic World, Dollhouse, Parking Lot Miniature, Cars in Traffic, Construction Play, …
How do children play in Small World Play?
Children play this kind of play intentionally, for example, if they see a scenario in the real life, they will come home and use the same scenario in a pretend play.
For instance:
If your child is into cars, and you go outside with him. He's going to keep observing the real vehicles in the real-life stuck in traffic… when he gets home, observe him. He will be playing with cars and making traffic…
In conclusion:
What he did here, is use his imagination to translate the real-life scenario into his small world play. And that is the definition of the Small World Play.
Supplies for this Christmas small world play For Toddlers:
White table cloth ( as a snow land )
Green felt pieces ( as grass )
Mini Winter Decorations that I had at home ( Mini Christmas trees, Santa and Snowmen figurines, Mini houses )
Holiday Train ( to make the play more fun & 3D )
Some little people figurines and cars ( that my son decided to add )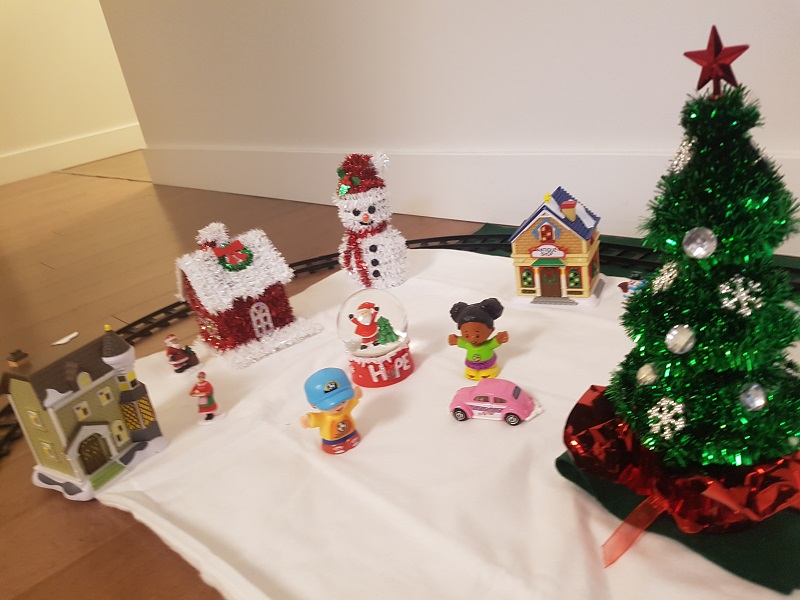 To Set-Up the Christmas Small World Play:
I started by putting the white table cloth on the floor. Then placed the green felt pieces in the corner of the wall…
I assembled the Train Tracks and placed the Holiday Train on them.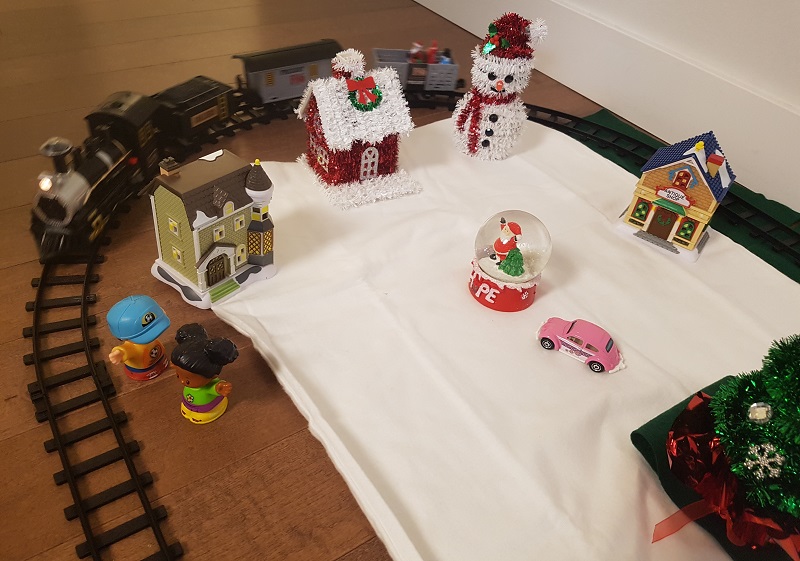 I decorated the play, with Christmas trees, houses, Santa, and Snowmen.
My little one decided to add little people figurines too with some of his favorite cars.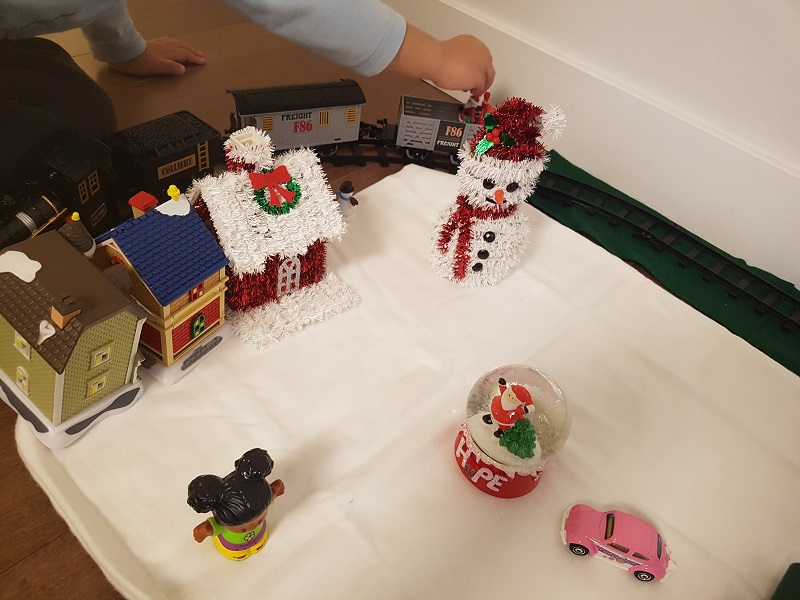 After you set up the activity, leave the station to give the opportunity for free play. The child will then use his imagination to play in the activity the way they want…
For The Train:
This Holiday 'Christmas' Train made the play more fun, with its real train sound and flashing lights… The Christmas Small World Play seemed real.
After the Holiday Small World Play…
After the child loses interest and finishes the play… pack the material and use it to decorate your shelf.
Do the same thing as mentioned before but this time for your shelf.
Start by covering your shelf with the white table cloth ( as a snow land ) then, add the green felt pieces ( as grass )
Decorate with the Holiday decorations that you have… (mini houses, mini trees, mini people… )
Finish the decorations with some artificial snow.