5 fun ideas to introduce seasons to preschoolers. Children learn through play better. It is always recommended for Early Childhood Development.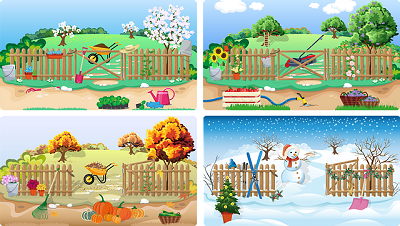 This post contains affiliate links.
The good thing about teaching the weather and seasons to kids is that it'll be easy for you to always find a moment to discuss it with them.
For example:
As a parent, use your outdoor moment with your child as a learning activity. Use more words to describe the weather and always ask open questions to the child… Besides making them think but also enriches their vocabulary and encourages them to have a conversation. ( this can work with toddlers as well )
As a teacher, a great way to teach the seasons and weather in your classroom, is by fun activities…
Here's 5 ideas to introduce seasons to preschoolers:
1) Songs
Children memorize things better with songs and it is always a fun learning method.
2) Books
You can never go wrong by choosing books as your teaching method. Books stimulate curiosity, support cognitive development, and improve imagination and creativity.
Here's some fun Books about Seasons and weather:
3) Flash Cards
Flashcards are a great option to teach the seasons and weather as well because they help children understand better and improve their visual memory.
4) Clay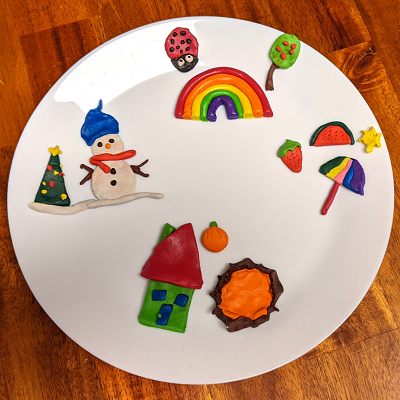 Clay is a great quiet activity that all children love. It is a fun game to teach seasons and the weather. The good thing about this activity is that it can be enjoyed both indoors and outdoors.
To make this lovely Seasons plate, get creative with your little ones and think about all the things that come with each season… Here's what we created for the four seasons:
Summer: Beach Umbrella, A strawberry, Watermelon and the Sun
Fall: Pumpkin Pie, Pumpkin, Halloween House
Winter: Snow, Snowman, Christmas Tree
Spring: A Rainbow, Apple Tree and a LadyBug.
These are easy objects to make with modeling clay for kids, and a great way to teach them about the weather and seasons in a fun way… This can be a good idea as a clay project for kindergarten
5) Stickers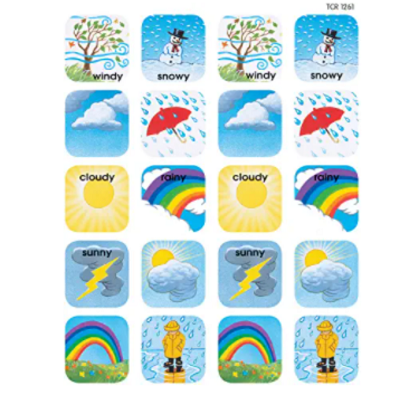 This is another fun way to learn. This fine motor activity promotes thinking, reasoning and understanding.
I hope this article inspired you and found it useful. For more fun and easy educational activities to do either at home or preschool, check out my other blog post: